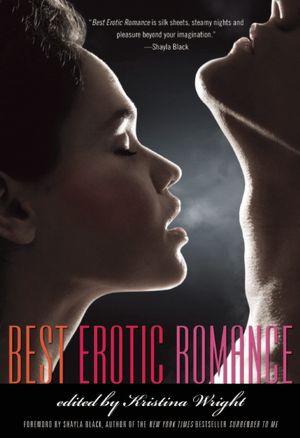 Best Erotic Romance (Cleis Press, 2012) offers a sampling of work from some of the best authors writing in the erotic romance genre today. Editor Kristina Wright introduces Best Erotic Romance by saying, "These are the stories that touched my heart and ignited my libido, that made me think about the nature of desire and the unpredictability of the human heart. Each of these seventeen stories weaves love and passion so tightly that one cannot be separated from the other. And isn't that what a lasting relationship is all about?"
Well written and provocative, the stories in Best Erotic Romance touch upon many different aspects of our sexuality and our expressions of sex within the context of our most intimate relationships. This is a book that celebrates the role of sex in our lives, and the need we have for intimacy, love, and passion. As a whole, the collection supports conversation, communication, and self-reflection. In the foreword, Shayla Black encourages readers to "embrace these stories for what they are: a true mirror of our inner needs, our longing to combine souls, to discover our truest selves. Explore. Fantasize. Wonder."
Best Erotic Romance offers a wide range of stories which explore and reveal our most intimate connections, encompassing a vast array of situations, characters, and settings. The relationships in these stories are mostly heterosexual and vary from long-term marriages to first encounters. The characters range from unattached singles to divorced parents to married couples with children. These stories take place across the world, and are rooted in our relationships with the erotic, body and mind, heart and soul.
*
Best Erotic Romance
Edited by Kristina Wright. Cleis Press, 2012. Foreword by Shayla Black
*

What Happened In Vegas by Sylvia Day skillfully balances the genres of romance and erotica, combining traditional romance with scorching hot sex.
First Night by Donna George Storey explores the concept of marriage and anticipates the subtle changes that such a deep commitment can bring.
Another Trick up My Sleeve by Heidi Champa finds humor and depth in a couple's quest to bring excitement back to their sex life.
Drive Me Crazy by Delilah Devlin is a lusty story about attraction and the push and pull of two characters as they reveal themselves to each other.
Once Upon a Dinner Date by Saskia Walker is a delightfully playful story that feeds upon the sensual exploration of sex.
He Tends to Me by Justine Elyot searches the place of love in a Dominant/submissive relationship dynamic.
Guest Services by Angela Caperton explores sex as self-empowerment, as the main character learns to take what she wants.
Memories for Sale by Andrea Dale is a story about a couple in a broken relationship opening up to communication and healing.
Blame it on Facebook by Kate Dominic finds the main character reconnecting with her past, and finding a path to her future.
The Draft by Craig J. Sorenson explores the powerful need for connection between two strangers who meet by chance.
To Be in Clover by Shanna Germain is a beautifully written story encompassing the wild, boundless nature of our sexual selves.
Honey Changes Everything by Emerald explores sex as a place of empowerment, as a couple finds strength in each other during a difficult time.
Cheating Time by Kate Pearce is a hot, heady story which engages and shows the love, passion, and sheer lust between a couple who take time to rediscover and reignite the fire between them.
Our Own Private Champagne Room by Rachel Kramer Bussel explores pop-culture sexuality and self-awareness as the main character actualizes her fantasy.
Till the Storm Breaks by Erobintica is a story about sexual openness and acceptance, as a married couple finds erotic pleasure between them rekindled through a threesome.
The Curve of Her Belly by Kristina Wright explores the concept of beauty and body image, as the main character struggles to see herself as the beautiful, sexy woman her husband sees, revealing a story of love, intimacy, and desire.
Dawn Chorus by Nikki Magennis is a story about the primal, emotional, natural expression of sex, as two characters crash into each other's dark worlds, bringing to light the deep need we all have for connection with another.
*
About Cleis Press
Cleis Press publishes provocative, intelligent books in the areas of sexuality, gay and lesbian studies, erotica, fiction, gender studies, and human rights. The largest independent queer publishing company in the United States, Cleis Press was founded in 1980 by Felice Newman and Frédérique Delacoste. Brenda Knight is Associate Publisher and Kat Sanborn is Editorial Associate.
*
About Kristina Wright
Kristina Wright is an award-winning author whose fiction has appeared in over seventy-five anthologies. A member of the Erotica Readers and Writers Association, Romance Writers of America, and Passionate Ink, Kristina received the Golden Heart Award for Romantic Suspense from RWA. She is the editor of Steamlust, Dream Lover, and the bestselling Fairy Tale Lust.
________________________________________________________________
Related Posts: